You awake to a phone call at 2 am. It's your onsite property supervisor calling, and their words confirm your worst fear: your building has flooded. An undetected water leak on one of the upper floors has caused water to soak through several floors below, damaging the assets within. You rush to the site, hoping to stop the water from leaking down and causing thousands of more dollars of damage. You know that had you been able to catch the leak earlier, you could have prevented this disaster.
If you're a property manager and this situation sounds familiar to you, you are not alone. Water damage emergencies affect over 5 million people each year and result in property losses amounting to over $10 billion annually. Often, those affected by water leaks feel helpless against stopping these disasters before they occur. But what many people may not know is that there are products on the market that offer a solution to damaging, costly water leaks. 
Leak detection systems help property owners proactively protect their assets and stop water leaks in their tracks. These systems monitor building environments and water usage and send alerts to users when unusual activity is detected. The point of these systems is to be notified the moment a leak occurs so that it can be stopped before it becomes a larger, more expensive issue. As a company with 28 years of experience restoring water-damaged properties, Certified Restoration understands how truly large and expensive flooding events can become. So we set out to find the best leak detection system to help our customers avoid these costly, frustrating, and ultimately avoidable events.
After researching many systems regarded to be the best water leak detectors on the market, Certified Restoration has identified the most effective leak detection system for commercial properties. The system we've identified checks all the boxes for the important facets of a good leak detection system below:
A preventative approach to

water damage

Cellular based connectivity

Full coverage

Proven track record

Quick installation
So without further ado, here's our full review of the best commercial water leak detection system on the market.
Our Pick for The Best Commercial Smart Water Leak Detector on the Market: Alert Labs' Water Leak Detection System
If you're looking to prevent water damage, lower operating costs, and increase sustainability in your building, this is the system for you. The Alert Labs water leak detection system, comprised of the AlertAQ platform and smart sensors, has been proven to check all three boxes to the delight of commercial customers.
A Preventative Approach
The Alert Labs product line features an array of smart devices designed to help protect against water damage. These devices work to monitor building environments and send alerts to the user's phone or computer for leaks, unusual water usage, abnormal temperature, and humidity. The sensors send real-time alerts that allow property managers and building engineers to take fast action before small water leaks become costly issues.
The devices in the Alert Labs line also feature integrations with the AlertAQ app and Google Assistant. Users receive leak alerts and notifications through the AlertAQ platform. The AlertAQ dashboard can be accessed through a web or mobile app and displays real-time analytics about your building's water usage. The dashboard allows users to continually monitor their buildings and quickly identify the root of any abnormalities or leaks that occur.
Cellular Based Connectivity
As we mentioned before, Alert Labs' smart sensors do not require a wifi connection. Instead, each smart device is cellular-enabled. This was a huge factor for us when researching this system due to the host of benefits cellular systems have over network-enabled systems. Cellular-enabled systems provide constant coverage – cellular outages are very infrequent compared to network outages. This means that you'll receive notifications on the status of water systems in your building, regardless of if your internet or electricity is working or not. This is a huge asset in places that experience natural disasters that affect electricity. Another benefit of cellular-enabled systems is that they are very quick to install, helping you get your system up and ready to protect your property faster. 
Multiple Devices for Full Coverage
There are multiple components to the full building protection that the Alert Labs system provides. Below, we explain how each device in the Alert Labs team of smart sensors works to protect your building against water damage.
Flowie –

Water Flow

Sensor

Floodie – Flood Sensor

Shuttie – Automatic Water

Shutoff Valve

Humie – Humidity Sensor

Sentree – A/C Monitoring System
Flowie – Water Flow Sensor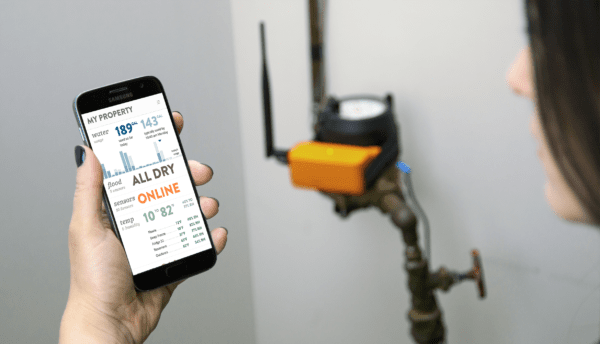 The Flowie water flow sensor simply straps on to water meters. Using artificial intelligence, the sensor maps out each building's unique water usage patterns. The sensor sends alerts for water leaks, power outages, temperature abnormalities, humidity, and unusual water usage. The Flowie can help keep water bills down by monitoring the water supply and providing insight into abnormal water usage. Featuring a battery backup of 1-3 days, the Flowie can be used outdoors and far from electrical outlets.
Floodie – Flood Sensor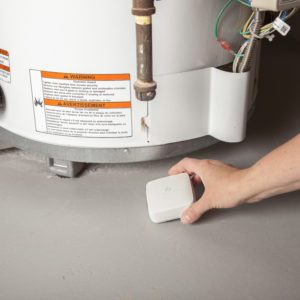 The Floodie is a portable water leak sensor that can be placed around your property for full flood detection. Within 3 seconds of detecting water, the Floodie sends alerts to users' devices via cellular connection and sounds an alarm. With customizable hot and cold thresholds for temperature alerts, the Floodie minimizes damage from temperature changes as it guards against water damage. The Floodie boasts a range of up to 1,000 feet and is commonly placed around toilets, water heaters and boilers, sump pumps, washing machines, faucets, and more.
Unlike many other sensors, the Floodie can be placed horizontally or vertically and is completely waterproof. Once cellular-enabled, you can track the history of all water events recorded by Floodie via the AlertAQ dashboard.
Shuttie – Automatic Water Shut-off Valve
The Shuttie automatic shut-off valve works in conjunction with the Flowie water flow sensors. Users receive alerts about unusual water activity and can remotely stop water flow from their device before a larger issue may occur. The Shuttie can also be configured to automatically stop water flow when unusual activity occurs. The Shuttie can shut off the water supply to main water lines, hot water tanks, irrigation systems, water features, boiler rooms, common areas, suites, and more.
Humie – Humidity Sensor
The Humie is a battery-powered humidity sensor that guards against mold damage and burst pipes by sensing humidity levels and temperature in a space. When humidity gets too high and is hospitable for mold growth, or when the temperature gets low enough for pipes to freeze and burst, the Humie sends a notification to the user so they can take quick action. The Humie is suitable for a variety of applications. It can help protect pipes from bursting, food from spoiling, and property from mold growth.
Sentree – A/C Monitoring System
The Sentree provides 24/7 monitoring of central A/C systems and alerts users when unusual activity occurs. The system provides live data for temperature, PSI measurements for liquid and vapor lines, and real-time amperage readings. This information provides HVAC contractors with the insights needed to quickly resolve any issues that occur.
Track Record of Success
The Alert Labs website is full of testimonials of customers who have saved millions of dollars in potential damages to their property. One commercial customer reported the Alert Labs system prevented millions of dollars in damage from a single water event. The foreman on site received a notification about a flood event in their building as soon as the water started to leak. Because of the quick alert time, his team was able to resolve the issue in 19 minutes and prevent an estimated $6,000,000 in damage to the property. After receiving an abnormally high water bill, another customer installed two smart water flow sensors at his properties. Within a few days, the system provided insights that helped the customer identify two leaky toilets that were driving up their water bill.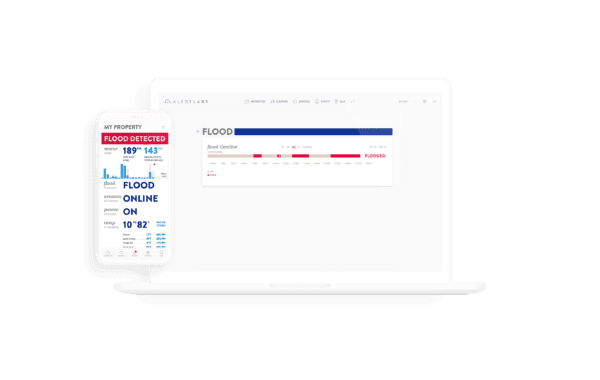 Alert Labs' water leak detection products already protect high-value assets in commercial buildings, multi-residential towers, medical buildings, government buildings, and educational facilities in Southern California. A customer in Southern California who manages a multi-story residential tower reported that within three months of installing the Alert Labs line, they caught over 10 potentially disastrous leaks and fully recouped the cost of their investment.
 Quick Installation
Alert Labs' products are designed to be installed in less than one day. Installation requires no tools, pipe cutting, wifi, or wired networks. This eliminates the demand of time on the customer side – you don't have to be available for a multi-day installation process or spend time connecting each device to your wireless network.
The Alert Labs system shines in commercial settings but can also be used by homeowners as part of a smart home configuration as it integrates with home devices like Google Assistant. Residential customers looking for integrations with Amazon Alexa may find success with the Flo by Moen, Leaksmart, or Phyn Plus systems. Those looking for integration with Apple Homekit may like the Eve Water Guard. Honeywell's smart home water monitor integrates with both.
With Alert Labs' water leak detection system protecting your commercial property, you can rest easy knowing that you'll be alerted before disaster strikes. If you're ready to be proactive against water damage, Certified Restoration can help. Certified Restoration is authorized to sell and install the full suite of Alert Labs leak detection technology and is doing so now for customers across Southern California. Contact us to learn more information and to start your first step towards protecting your property and assets against avoidable water damage.