Is crawl space moisture a problem for you? If moisture or flooding issues arise in your crawl space, there are a few key components of the clean up process you want to get start immediately before you take on the DIY project or while you wait for your restoration company to arrive.
Crawl Space Moisture & Why You Should Leave It To The Pros
There are a few things in life that are worth spending the money. Crawl space restoration is one of them. Don't believe us? Take a look at what is under your house now, then think about what that looks like covered in stagnant water or sewage. Professionals are trained to safely and effectively clean that out.
Homeowners often are under the impression they can do it themselves, but fall under common mistakes in the process. Many people also don't have safety equipment or proper training on dealing with hazardous materials. Here is what you might find if you take on the project yourself:
Crawl space moisture, left untreated, creates a perfect storm for mold growth under your home. Toxic black mold is as scary as it sounds – it can lead to major health issues for you and your family, including:
chronic fatigue
persistent headaches
skin & eye irritations
chronic coughing
asthma
other serious respiratory conditions
Health issues related to allergies often are induced by mold issues in the home. They can be hard to fully treat if the mold issue persists. If you are experiencing allergy symptoms that will not go away even after medication and allergy treatments, it is likely linked to mold issues and a good place to have a professional start looking is in your crawl space.
Mold hides in damp and dark place, like a crawl space, but can also creep into your home through:
vents
ceilings (if leaky pipes run through it)
floor boards
bathrooms
laundry rooms
windows
animal droppings
No matter how hard we try – we will always live among nature. Wild and domesticated animals alike will find their way into your crawl space and will leave their mark. If you take on cleaning up your crawl space moisture issues, you'll likely be crawling around in soggy droppings. Professional water damage restoration companies are experienced in working in these environments. They have tools and gear that protect them while they work under your house.
dead vermin
Among the animal droppings, there is also a likely chance that vermin such as mice or rats made your crawl space their final resting spot. Dead vermin also pose a threat to your health and carry disease. If you are not trained in the removal and/or disposal in this type of situation, you expose yourself to the following:
hantavirus pulmonary syndrome
leptospirosis
plague
psychological damage from the sight and smell of a dead rodent
Get Rid of Crawl Space Moisture in 6 Steps
If you decide you want to do some or all of the restoration yourself, these are the 6 steps that go into crawl space moisture restoration: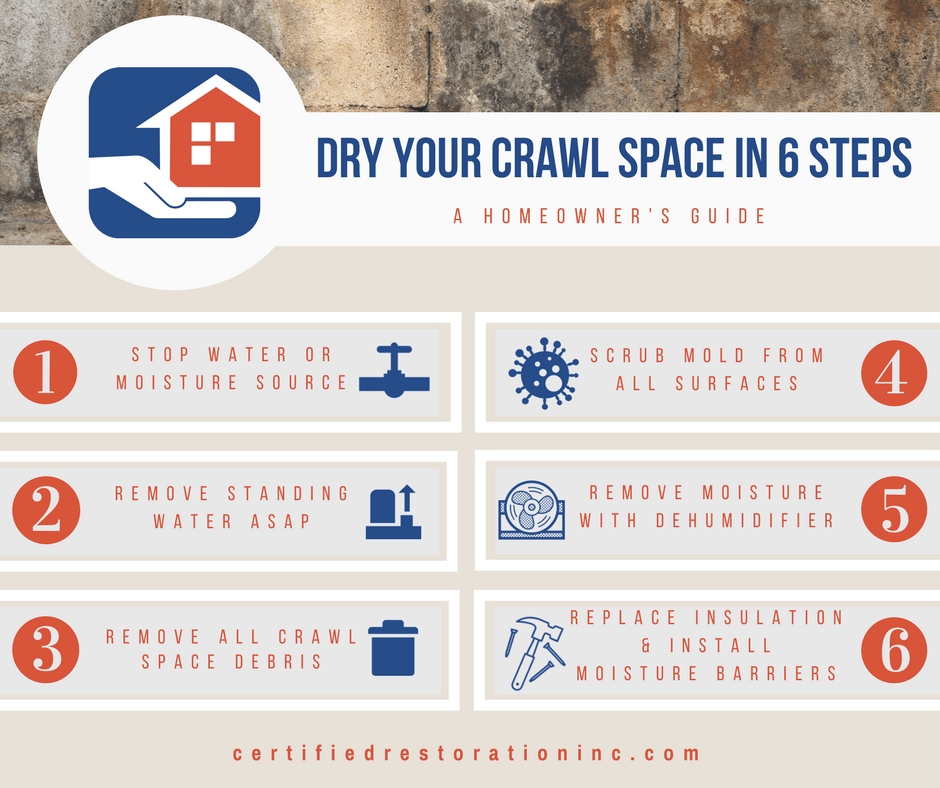 If water is flooding into your crawl space, stop any further water from entering into the crawl space.
Is the source a burst pipe? Shut your water off as soon as you can. If the water is a result of rainwater, use a push broom to move water away from the crawl space and your home.
Remove any standing water
You'll need a submersible pump and a wet/dry vacuum, but if you don't have one use what you can while you wait for your restoration company to arrive.
Remove all crawl space debris and any wet materials including wet insulation
Scrub mold from all surfaces
Remove moisture from crawl space
You'll need a dehumidifier or professional grade drying system. Your restoration company will be able to use the latest technology to remove moisture from your crawl space and be able to reassure you that the environment is completely dry.
Replace all wet insulation in your crawlspace and install a moisture barrier to the entire floor to prevent any future damage
Is Crawl Space Drying a Realistic DIY Project?
We do not recommend people learn a new skill in the face of water damage or crawl space moisture issues. It is best to leave the restoration to a professional restoration company. You'll sleep a lot better knowing that your home is safe from black mold and and vermin like rats, termites, and other unwanted house guests that are attracted to moisture in your crawl space.