At Certified Restoration, we know water damage and natural disasters do not wait for the most convenient time to strike. As a property manager, having a disaster management plan in place is crucial to minimizing damage and keeping your residents safe.
Developing a Disaster Management Plan
Property managers should have a unique disaster management plan for each property. These materials should be available to all residents and managers digitally, and in print so that they are readily available in the event of an emergency.
Each disaster management plan should include:
An Evacuation Plan
Emergency Information
Police/Fire/Hospitals

Emergency services (Red Cross, FEMA)

Building owner/Property Management

Gas/Electric/Water Company

Plumber/Electrician

Emergency Restoration Service Company

Major systems and access

Insurance (form)

Property description and inventory (form)
Meet with residents/HOA annually
Set up a disaster preparedness meeting with the HOA board and residents and provide them with materials needed to deal with the threats associated with a natural disaster. Talk them through the evacuation options and your disaster management plan. Encourage them to fill in their information for their copy of the disaster management plan (ie. insurance, property description, and personal home inventory), this information will keep them organized and help protect their property and belongings.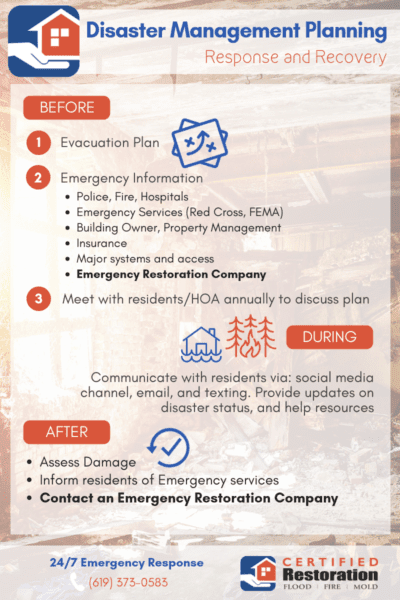 During disaster
Maintain communication with residents before, during, and after the disaster strikes. Use your existing communication channels to alert residents and remind them of procedures and resources.
Social media

Email

Text messaging
After
Assess property damage

Know what emergency services are available to your residents and inform them of any steps they need to take to access services

Contact a local emergency restoration contractor

Certified Restoration is here to help San Diego Property Managers!
Natural disasters are incredibly stressful for residents and property managers, and can result in serious water, fire, and mold damage to affected communities. Implementing a strong disaster preparedness and management plan can help to keep your residents and properties safe, and take at least some of the stress out of the situation. As a property manager, it is your responsibility to communicate with residents and have clear procedures for the management company and residents to follow in the event of a disaster.
Our main takeaway? Be a resource for your residents and know who to turn to for help in the event of a natural disaster. Certified Restoration offers 24/7 emergency restoration services in the San Diego area. Our team has the equipment and experience to restore damage safely and efficiently on your properties, and get your residents back in their homes as soon as possible.