What do baseball and grilling have in common? They're both some of America's favorite pastimes! With 75% of US households owning a grill or smoker, backyard barbecues are an extremely popular way to spend holidays, enjoy summer evenings, and amp up for sporting events. 
For many people, grilling is fun and relaxing. But it doesn't mean you should let your guard down entirely while barbecuing. Cooking with an open flame is dangerous, and is a frequent cause of home property damage in the US. In fact, US fire departments responded to an estimated 10,600 fires involving grills per year over a 4-year span. These fires caused an average of 160 injuries and a whopping $149 million in direct property damage annually.
Grilling recklessly puts you and your home at high risk. Out of all the home grill fires recorded during the 4 year time period, nearly half of all fires caused damage to structures. 64 percent of the associated fire injuries and $135 million in direct property damage per year resulted from fires involving structures as well. 
Cookout related disasters tend to peak during the summer months, according to the Hearth, Patio & Barbecue Association (HPBA). As many people choose to celebrate holidays with a backyard barbeque, grill fires also peak around the Fourth of July, Memorial Day, and Labor Day. As we enter the peak grilling season, it is important to know how to keep you, your loved ones, and your property safe. 
Grill Fire Trends 
Want to know what to look out for and avoid? Here are some grill fire trends based on 2014-2018 annual averages:
July witnesses the peak for grill fires (18%), including both structure, outdoor or unclassified fires, followed by June (15%), May (13%) and August (12%).

The grill had not been cleaned in more than one-quarter (29%) of the home grill structure fires.

The leading area of origin for structure fires involving grills was an exterior balcony or open porch, and 44 percent of the property damage from grill structure fires resulted from fires that started there.

Five of every six grills involved in home fires were fueled by gas (84 percent), while 12 percent used charcoal or another solid fuel.

Gas grills were involved in an average of 8,900 home fires per year.  Leaks or breaks were primarily a problem with gas grills.

Charcoal or other solid-fueled grills were involved in 1,300 home fires per year.
How can you prevent accidents and injuries with your grill?
Whether you're flipping burgers or simmering steaks, here are some tips to keep you grilling safely and responsibly:
For gas grills, check carefully at the beginning of the season for gas leaks by following the manufacturer's instructions. Make sure the gas line is in good condition and not broken or cracked.

For propane tanks, make sure the tank is not rusted, dented, or damaged. Do not overfill it.

Do not store propane tanks indoors.

Never use your outdoor grill inside and when using it, always make sure it is in an open space clear of anything flammable, such as a low awning.

Do not leave the grill unattended while cooking. This will prevent unattended children from getting injured, and allow you to stop potential hazards in their tracks.

Never lean over the grill while cooking. Clothing and hair are extremely flammable and pose a hazard while grilling.

Do not move the grill while it is in use or still hot.

Make sure the fire is completely out when you are done.

Be prepared in case a fire should start. This means having access to a fire extinguisher or baking soda nearby to throw on flames.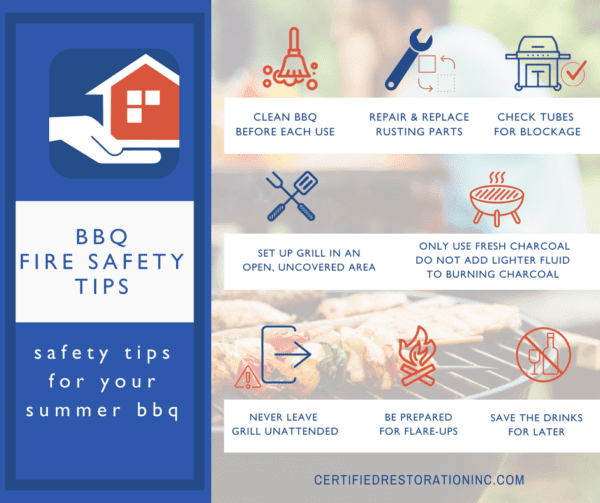 Most Importantly, Use Common Sense
Good old common sense goes a long way in preventing backyard BBQ disasters. With these tips, you can make sure everybody has a great time at the cookout:
Never leave the grill unattended and keep children away. This diligence protects kids and pets from accidental burns and injuries.

Be prepared for flare-ups. Have a fire extinguisher, garden hose, or bucket of sand on hand.

Use the right cooking equipment. Flame-retardant mitts and long-handled tongs and utensils will make it less likely that you'll get burned handling hot food.

Go easy on the alcohol. Being clear-headed goes a long way in preventing potential disasters.
The tips above are just some of the precautions you can take to make sure everybody has a safe and enjoyable cookout experience. Staying on top of BBQ safety will ensure you can have a relaxing summer full of tasty grilled meals. Happy grilling!