Why Certified Restoration?
At Certified Restoration, we've been serving customers throughout the San Diego area for upwards of 20 years and are fully licensed and insured. We're proud to have helped numerous customers, just like you, keep their businesses up and running when fire, sewage, water damage, or mold put them at risk. We're there when you need us.
If you've experienced flood, mold, or fire damage on your commercial property, contact us today for immediate assistance.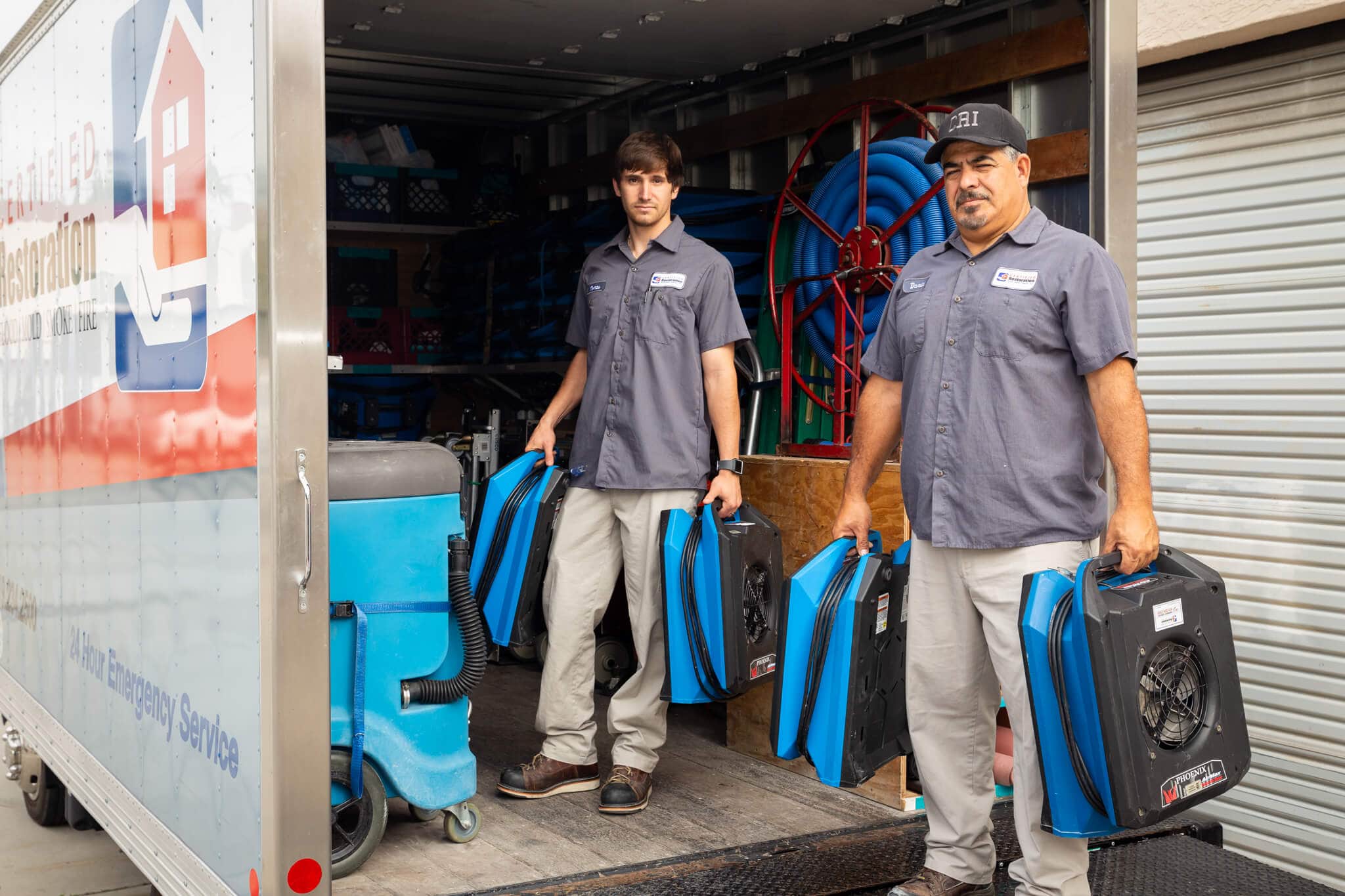 24/7 Emergency Service
You don't get to choose when trouble strikes. That means you need to know the team providing restoration services can respond to your needs immediately. At Certified Restoration, prompt response time is something we pride ourselves on and are committed to providing. Experiencing flood, sewage, or fire damage on your commercial property? Give us a call, and our technicians will be at your property within an hour.
Our Large Fleet
We're able to respond to emergencies quickly because we maintain a large fleet of vehicles, along with a large, experienced staff of highly-qualified restoration technicians who pride themselves on providing top-notch services.
100% Satisfaction Guarantee
Every restoration company will claim to deliver the best possible service, but not every company can live up to that claim. Fortunately, we don't just claim to be reliable. We're so confident in our ability to deliver results that we make a 100% satisfaction guarantee. And if you don't believe us, check out what our customers have to say.
Experience
Our experience of over 20 years in the business has allowed us to understand the types of damage the residents of San Diego experience. We're experts in our field, and our highly trained team of licensed and insured professionals can address issues quickly and get you back up and running again in no time. When you hire Certified Restoration, you can be confident you've hired professionals who know what they're doing.
You can also be sure you've hired professionals who do thorough work. For instance, when removing mold, we take careful steps to ensure that we've not only removed all of it, but minimized its chances of developing again.
Licensed & Insured
We carry all the necessary licenses and insurance policies required to make sure we're doing the job right. That means we're qualified professionals and you won't be liable if any incidents involving the restoration work do occur on your property. On top of that, we're IICRC certified.
We Work with Your Insurance Company
The process of coordinating with your insurance provider after an emergency can be very stressful and time-consuming. That's a key reason we make a point of working with our clients' insurance companies directly, helping to simplify the process and minimizing downtime. We want to help you get back to work right away.
Green Practices
We believe in being stewards of the environment at Certified Restoration, which has informed the way we operate. Every step of the way, we make eco-friendliness a priority in our work.
Efficiency & Flexibility
Disasters and the subsequent damage they can cause can lead to downtime, affecting your bottom line. At Certified Restoration, we understand both the physical and financial damage these disasters can cause commercial businesses. That's why we make a point of working efficiently, without sacrificing thoroughness.
And unlike disasters, we understand you're running a business. It's top of mind when determining when and how we will address the damages affecting your business. We'll work with your schedule to ensure we quickly remedy the situation and get you back to normal business hours in no time.
High Ratings & Rankings
Want to make sure you've made the right choice when hiring a commercial property restoration company in San Diego? Well, CRI boasts a perfect five-star rating on both Yelp and Google! We've also received an A+ rating from the Better Business Bureau. If you're looking for a trusted and reliable company who puts their customers first, Certified Restoration is the only choice.